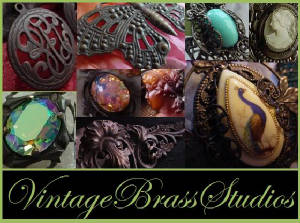 RENAISSANCE DESIGNS
With Oxidized And Vintage Brass
One of the keys to designing Renaissance and Gothic Style jewelry is to go big, go bold and go very ornate with large faceted or cabochon stones.
Layering (or stacking) various pieces of brass (variation of color adds dimension) and adding a large focal stone creates an ornate, high relief focal piece as illustrated in this men's neckpiece below.
(also see the closeup of the focal piece of this neckpiece on this page, located below...at right, center)
BIG BOLD STONES
....and large ornate components give this men's neck piece an authentic period look.
This piece features large Vintage 25x18 Czech glass Smoke Topaz rhinestones.
This entire piece was made from vintage and old brass with natural patina.
When designing, I like to lay out a bunch of pieces on my worktable so I can try different combinations.
It's a bit like putting together a puzzel...just keep trying different pieces until they "fit".
Get yourself a nice assorment of brass pieces in various colors and just go for it!
These large ornate pieces make great conversation pieces and wall art and hey, you never know when you might want to go to the renaissance festival.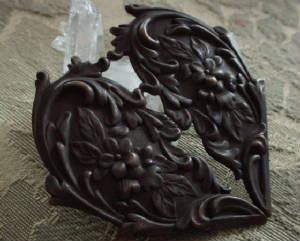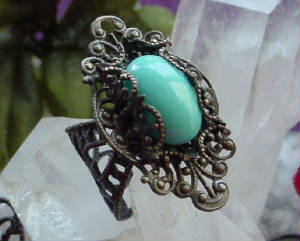 Gothic Style Victorian
The Victorians took on many of the design elements of the gothic and renaissance periods as illustrated in this filigree wrapped turquoise ring which has a Gothic style.
GOTHIC & RENAISSANCE
MEDIEVAL DESIGNS
FOCAL PIECES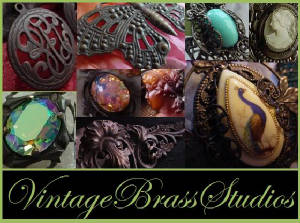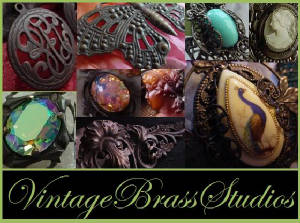 GOTHIC DESIGNS
With Oxidized And Vintage Brass
Another important aspect in designing Gothic and Renaissance Style jewelry is to use Czech Glass Rhinestones rather than Swarovski Crystal (machine cut/faceted stones) to tone down the design giving it a medieval, old world look.
Note: Swarovski Crystal cabochons work as well as they are not machine cut/faceted.
-
LAYERED BRASS
Get stunning results by layering (or stacking) various brass components and mixing different colors of brass to create a focal piece of distinction.
In this gothic style set, I used serveral different colors of brass adding seperation to the design.
Vintage Czech Glass Siam Ruby Rhinestones and beads are my pick for achieving an "old world" look.
Imperfections in the beads and/or stones are welcome as they really do add the the authentic medieval look.
In this set I combined old natural patina brass with our hand oxidized brass (left with its dark patina) to create added drama and dimension.
There are no rules in designing these large ornate pieces...and that's what makes them so fun to make.
The bigger, the bolder, the better!